I have a customer from Slovakia, i called him Marcel ,he bought 1 set ME650 cnc machine center from our company at 25/October/2015 .Because he is end user , he haven't professional engineer with enough ability to help him install and debug machine , therefore he need i and my engineer to help him .
A month after , the flight arrived in Budapest Airport,my customer come to pick us up at airport .We were met at the airport outside .This is our first met ,he is a boy about thirty years old , his beautiful wife together with him to pick us up .
They are located KOSIC city is far away from Budapest ,about 300 kilometers and need more than 3 hours by car .i don't know his wife name , because she just can speak slovakia language ,therefore we haven't too much communicate with her .
I and my engineers sit on the customer's golf car towards his city ,there are not have many car on the hungary highway .Generally a one-way two lane ,The car was driving faster.Just after ten hours of the plane, we felt very tired and after the half an hour we had a nap in the car.
The car traveled about 3 hours ,we arrived a small hotel ,The hotel owner has been home to sleep, the customer call in the past, the hotel owner took the key to bring us in, the time has been close to 2 am.the hotel opening the heating ,we had a breakfast about 9 o'clock AM . About ten o'clock ,my customer came pick us up to his factory for install and debug cnc machine center by car ,on the way , we can saw some of the castle and the little village ,did not like the Chinese as modern edifice i think ,after 20 minutes ,we arrived customers factory , From the outside to see that it more like a private house, about one hundred square meters , the house is divided into two parts, the first half of the shelves, our cnc machine center stay in the second part ,this factory is built this year, which is very new and clean.this factory is built this year, which is very new and clean.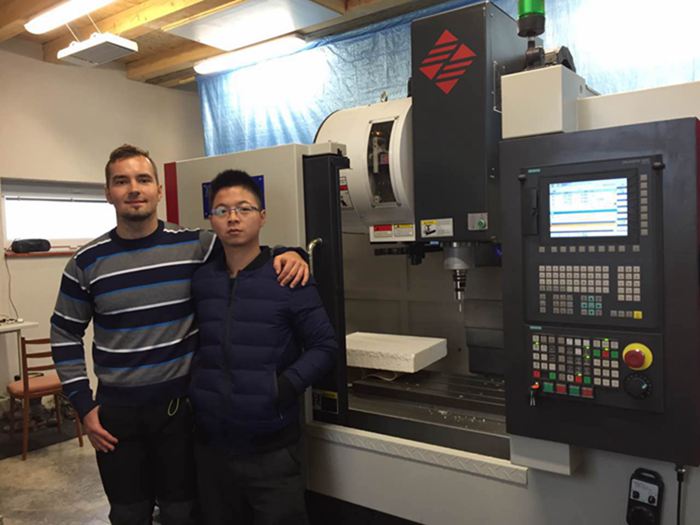 After a while , we had to began our work, we open the machine for debug to teach customers how to change the tools , because my customer not operate cnc machine center before ,Only in the online learning SIEMENS systems , so it is not easy for him .
About half of whole days , customers learned basic operations of cnc machine center In the afternoon, we went to eat lunch, and the foreign lunch is always so late.
After lunch we engineer teach customers how to operate demonstration tool usage, through the program, realized the automatic measurement tool length and diameter, customers have been studied for whole day.
After a few days have been learning probe touch. Until the four day of work, the customer took a piece let us try processing, processing and measurement together (compiled in a main program).
There is a small problem of processing out of the workpiece, we cooperate with customers to modify some of the parameters of the program inside, repeated many times, the final customer satisfaction with the results, until 6 o'clock in the evening, we have to end all the work. Second days in the morning more than six points, customers drive to take us to the Budapest Airport, in a hurry to end a week of Slovakia trip.
In my heart——
Always Adhere To The Principle Of Customer First

Datan always adhering to the challenges and is committed to providing unique and original products and services. Constantly helps customers over the world to achieve desired new processing method.