It is said 2015 is the coldest year in recent 30 years. The heavy snow began from early December. It seems that everything is frozen by white snow without any energy. However, our company—Datan, never stops our high passion to customers. And the unforgettable visit of South Korean customers brightens our new year.
At the first month of 2016, our Korean customer---Mr. Dong Teck, paid a visit to our factory. He wanted to find a reliable machine factory and establish a long-term cooperation relationship. Developing machine market in Korea was a huge challenge for him. When we talk, I ask him how many factories he was going to visit during this business trip. He said only Datan. It really surprised me. Usually customers always prefer visiting several factories at the same time, then choose the most suitable one from them. I continued to ask Mr. Dong Teck questions. I asked: "Mr. Dong Teck, why do you only visit our factory?" He answered with a nice smile, "As a matter of fact, I have done a lot of research about Chinese factories. There are so many factory web pages on google. I review them one by one and also send them emails. Based on those preparations, I choose the best one from them, so I decide to visit your company. Then you can understand why I only visit Datan not other factories. " What he said really made happy. Meantime, I realized that our google web page and alibaba looks so professional that it gives customers a sense of reliability.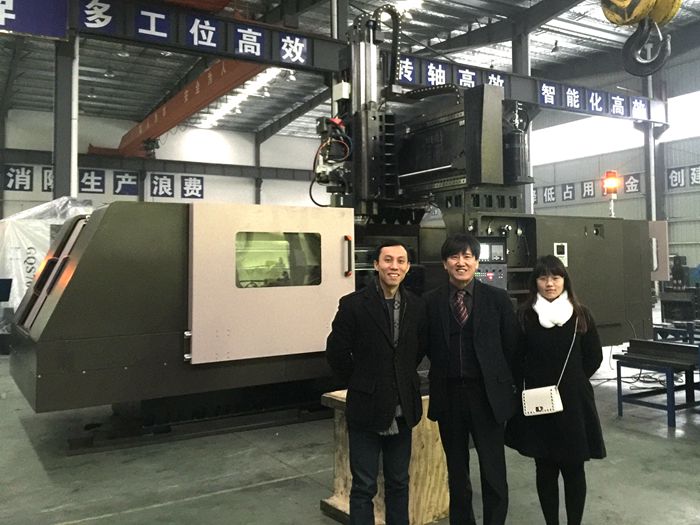 During this visit, I showed him around. Our lathe machine factory is very huge that would take you one hour to finish visiting our factory. Many lathe machines were ready to be made. All the workers focused on their works. Some of them were repairing broken machines, some of them were testing machine accuracy, the rest of them were assembling machines. The industrial workers and huge workshop left a really great impression on Mr. Dong Teck. While visiting factory, Mr. Dong Teck showed his workpiece. Our engineers were very professional and willing to help Mr. Dong Teck. After studies this workpiece carefully, our engineers provided very valuable and helpful processing solutions to Mr. Dong Teck. From it, you can know our factory better that we not only sale machines but also give professional processing solutions to our customers.
When we finish visiting workshop, I guided Mr. Dong Teck to meet our manager Mr. Wang. In the meeting room, Mr. Wang started to introduce Datan from the past to the future. Being established in 1960s, our company had more than 50 years in manufacturing machines. Over decades, we won many prizes in machine field. No less than 100 patents were obtained. From those figure, Mr. Dong Teck fully understood how strengthful our technology were. Due to the long and precious machining experience, Mr. Dong Teck believed our factory surely could open machining market in South Korea. Later on, we went through our agreement terms one by one. We agreed Mr. Dong Teck as our exclusive agent in South Korea, and were willing to support all the work Mr. Dong Teck does in South Korea. At the same time, Mr. Dong Teck should do promotion work to sale our products with full effort. In the end, both of us reached an agreement happily.
From 2016, our company plans to step into South Korea with high spirit.
In my heart——
Always Adhere To The Principle Of Customer First

Datan always adhering to the challenges and is committed to providing unique and original products and services. Constantly helps customers over the world to achieve desired new processing method.