I have a customer from new Delhi, India, he bought 1 set TX32 cnc milling machine on 11th September /2015.i perfect to called him brother ,because not only he is my good business partner but also my good friends . From he find our company the beginning to the end and cooperation, We had a lot of difficulties.But all the efforts were not in vain, we finally reached a win-win situation.
The customer need a CNC milling machine.he is final user , he want to processing his workpiece by cnc milling machine .
At first I sample introduce the development history of our company and our core competitiveness in china market to him .
To be honest, our company machine price haven't competitive advantages in china market ,because our company machine belong middle high products in china market , we won't suppose to reduce the product price by use cheap machine configuration .most configuration of our company machine is from taiwan and germany brand .
Our company has about 30 years experienced of research and design in cnc milling machine , ensure the reasonable design of machine tool every place to ensure quality the same time can reduce the cost.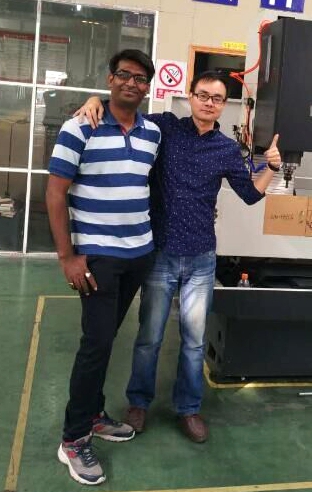 This customer is very professional, asked me how we are through the reasonable design to achieve, I also carefully explain every detail with him, so he is interested in our company's machine tool , he told me that mainly processing of steel, iron, copper, and other artifacts, shape is Allen, this is a very simple process, should be on the market most of the CNC milling machine should be able to meet the requirements, but the reliability and stability of the machine is on the other hand, as well as quality and price, by asking, before the customer use is Japan's machine before, visible client requires very high for machine tool as a whole, machine tools used for too long, want to change a new machine tool, this time for the stability of the machine tool and not poor rigidity, can satisfy their own processing requirements, he simply said his main requirements for machine tools.I feel TX32 cnc milling machine is suit his processing demand,this is a small machine it is our first generation product, it has a long history, product stability is good.its main window generation is its short throat depth design, small aircraft high rigidity,high torque.The quality of CNC milling machine with much better than the market price.
After a few days to get to know each other, the customer also approved the sale of our cnc milling machine .so he let me give his offer, the customer first impression with our prices is exclusive, he said that our price is a little high, I understand him,because every customer want to buy the best products at the lowest prices, but I know that our products both in price and quality is a competitive advantage, I still insist on our price remains the same, because our price is reasonable in the market.Soon, he may find something, or acquiesce in my price, so we cooperation agreement, and respond to me, after completion of the machine in the future to visit our factory, for future long-term cooperation to lay the good foundation.
In my heart——
Always Adhere To The Principle Of Customer First

Datan always adhering to the challenges and is committed to providing unique and original products and services. Constantly helps customers over the world to achieve desired new processing method.