Formwork is the semi-finished products of the mould, it is composed of various steel plate with parts, can be said to be the skeleton of a complete set of mold.
Production of Formwork for processing equipment requirement has relatively high ,not only when rough processing with high metal removal rate ,but also when fine finishing with high local precision and surface degree of finish.
Client introduce
Shanghai Jiede metal products co., LTD, founded in 2004. Jiede company is professional production and sales formwork, mold steel emerging enterprises,2010 years new items :precise formwork production line, operate plastic cement mold , Bubble plastic mould ,Rubeer plastic mould, Since this company established due to excellent quality and advanced management high speed growth to 150% a year, have long time with one of the world's four – 龙记 formwork supporting and has a higher visibility in the industry, the company to purchase equipment directly affects the surrounding formwork customer purchases direction.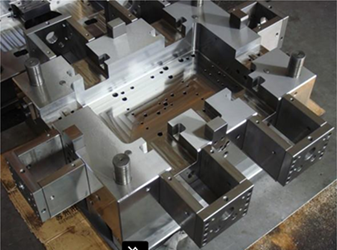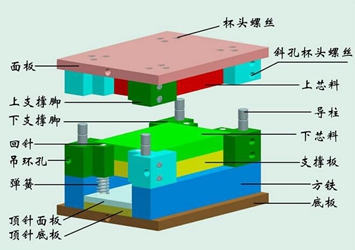 General formwork processing requirement,Precision of Formwork including several aspect as followed :
1、The plan dimension of the upper、downer template and the consistency of the guide hole position
2、The Flatness and parallelism of the template big Flatness;
3、 The guide hole for the perpendicularity of the big flatness;
4、The perpendicularity of the template between adjacent side;
5、Guide post and guide sleeve cooperate precision;
Other :
1、Precision require control within 0.02mm (position, Contour size)
2、Efficiency≥Taiwan machine(Half precision processing)
3、Machine stability CPK at least 1.67
DATAN recommend use models machine is GS series small gantry machine ,GQ series door-back type machine center .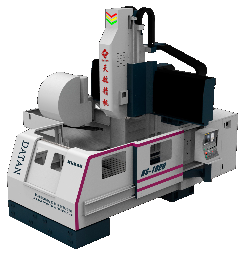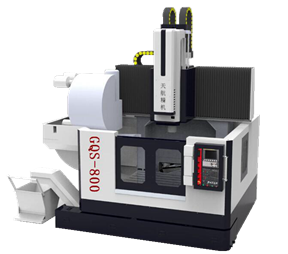 Door type structure different with traditional vertical cnc machine center C type structure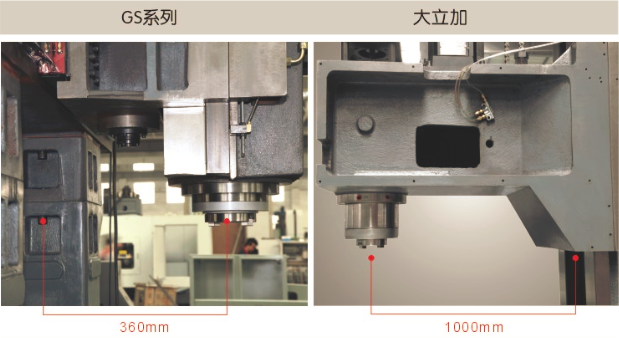 More rigid----Door type closed structure
Small gantry machine double column door type structure ,closed structure;Larger VMC is single column C type structure, open structure ;small gantry machine allover rigidity higher 50% than larger VMC.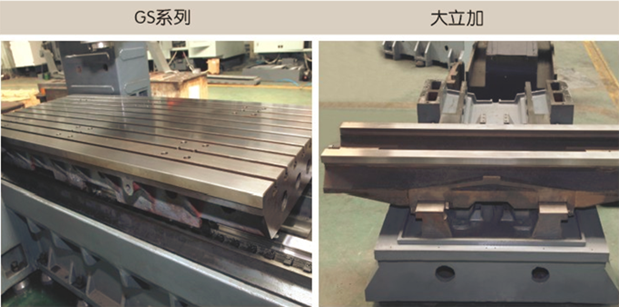 More rigid ----ultra shorter throat depth distance
Small gantry machine throat depth distance(spindle turning center and Y axis guide rail distance ) of 360mm ,larger vertical throat depth distance (spindle turning center and Z axis guide rail distance)of 1000mm, overcome C type vertical rigidity the weakest link. Small gantry machine allover rigidity higher 50% than larger vertical machine center .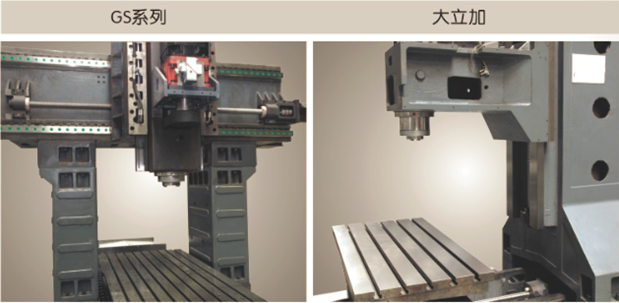 More stable ----worktable full support
Small gantry machine work by 6 sliders ,all located in machine base :but larger vertical due to two side suspension, when the worktable from left move to right , the focus will be offset ,result in micro deformation affecting the accuracy ,when the processing of larger plane ,small gantry machine can improve one level compared with larger machine center .
Small gantry machine and vertical processing advantages :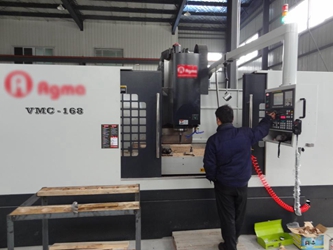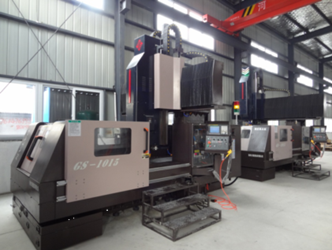 A Taiwan famous brand DATAN GS1015 small cnc gantry machine
Rough processing PK
Larger VMC rough processingD50×1000/rpm×0.5,F Maximum value of Federate :800,metal remove rate 20cm³/min
Gantry rough processing:D50×1500/rpm×0.7,F Maximum value of Federate:1400,metal remove rate 49cm³/min
Roughing 2.5 times faster
Finishing PK
When the processing big plan ,small gantry machine can improve 1 level compared with Larger VMC .Flatness 500≤0.015
Small gantry machine hole position is similar with lager VMC:0.015mm。
Finishing size precision control is basically the same ,the flatness processing is better than larger VMC .
From DATAN experienced of formwork industry to see, summarized as follows:
1、1,DATAN small gantry machine center had caught up with Taiwan larger VMC in quality, many formwork user's fact prove small gantry machine center in accuracy control and stability has fully can comparable with Taiwan larger VMC .
2、DATAN small gantry machine center metal remove rate is Taiwan larger VMC 2.5times .
3、And also to see the facts that the domestic machine in the exterior sheet metal and the details did not meet Taiwan machine ,this is also our DATAN cnc gantry machine need improve space .
4、Formwork is belong middle high-end in the field of machine processing, for the requirement of comprehensive performance and processing technology is very high , DATAN 's experienced must can help customers.
The configuration suggestion of the formwork processing use small gantry machine center :
1、According the mold cavity processing need use long nose end BT50 complete set spindle , it is more convenient for deep cavity processing.
2、when the Black color metal dry cutting will use alloy cow nose tool but not suit cold-water ,should cold-wind, and need to improve joint of cold wind , do wind-cold nozzle can adjust wind flow .
3、Controller system AICC function as a standard configuration ,and need configure RS232 transmission line (processing on line),it is more convenient for customers modify the procedure .
4、Need to configure 100~300mm high block ,in order to avoid users when the square ram open to the bottom result in rigidity insufficient , make the processing accuracy and efficiency not high .
DATAN small gantry machine center main configuration:
1、Controller system adopt Fanuc 0i-MD,αservo motor,open AICC function
2、Spindle adopt BT50-6000rpm,with ZF gear box transmission
3、Generally do not need ATC
4、Tools outside circulation cooling
In my heart——
Always Adhere To The Principle Of Customer First

Datan always adhering to the challenges and is committed to providing unique and original products and services. Constantly helps customers over the world to achieve desired new processing method.